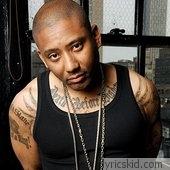 (2003-Present) Jermaine Coleman, better known by his stage name Maino, is an American rapper from Brooklyn, New York City, New York. In 2003, Maino was released from prison after a 10 year sentence for a drug related kidnapping. He founded the independent label Hustle Hard and started to record music. In 2005, he was signed to Universal Records and started recording his debut album Death Before Dishonor. However, Maino was dropped from the label and his album was shelved. Maino began hitting the New York streets with mixtapes such as The Hand of God, Brooklyn's Don, Hard Hustle, We Hustle Harder Than You, The Last Real Nigga, Keys to the City, etc. He built a massive buzz until he signed his Hustle Hard label as an imprint on Atlantic Records, and began to release more significant mixtapes such as Maino Is The Future, Black Flag City (The New Religion), etc. Eventually Maino released his debut album, If Tomorrow Comes in 2009 with the 2 successful singles, Hi Hater and All The Above ft. T-Pain. Maino has since released Unstoppable: the Mixtape and Unstoppable: the EP as precursors to his upcoming 2nd album, The Day After Tomorrow, which is due late 2010.
Read more about Maino
Our database have 68 song lyrics of Maino. These lyrics are listed in alphabetical order and properties of their songwriters.

Sister Sparrow & the Dirty Birds 'Make It Rain' Video: Maino Raps on a Rooftop - Source: The BoomBox
This unity brought the entertainers together for the band's new video 'Make It Rain,' a song featured on their new LP, 'Pound of Dirt.' Arleigh Kincheloe, who is the Sister Sparrow of the bunch -- she's supported by her eight bandmates -- showcases her raspy lyrics over a bed of trumpets and drums as the video commences.

Maino: 'I Am Who I Am' (Mixtape) - Source: Prefix Magazine
Before Maino finally releases his sophomore album, The Day After Tomorrow , on Feb. 28, the Brooklyn rapper is dropping a free star-studded project for his fans.